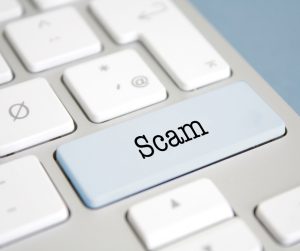 Scammers are everywhere, including in the literary fields where they prey on the hopes and dreams of writers. Here are key warning signs to help you recognize and avoid literary representation scams.
1. Lack of Transparency
Reputable literary agents are upfront about their identity, agency, and qualifications. They are easy to research and find information about, including location, contact information, and track record.
Be cautious of agents who hide their true identities, use generic email addresses, or provide limited information about themselves or their agency.
2. Requesting Money Upfront
A common red flag is when an agent asks for money upfront to represent your work as a fee to read or edit your manuscript. Legitimate literary agents earn their income through commissions on book sales. That's it. They should not charge fees, or any other upfront costs. If an agent insists on payment before representing your manuscript, walk away.
Two things to note are that agents often have in their contracts that fees incurred by them in representing you will be passed along to you. In the past, this was for things like postage or copying. However, in the digital ages, most of these fees are not incurred.
Second, some agents now offer fee-based editing, however, they must be clear that the service isn't a part of agenting and, in fact, by hiring them to edit ethically removes them from being able to represent your work. For details on what is and isn't allowed, read the Association of American Literary Agents Canon of Ethics. Section 8 covers editing services by agents.
3. Guaranteed Success
Beware of agents who promise guaranteed success or make grandiose claims about your book's future. The reality is that publishing isn't like math, where two plus two is four. There are many factors that go into selling a book to a publisher and while agents have contacts and insight into what publishers want, they can't predict what will sell or not sell. Reputable agents are honest about the uncertainties and challenges of the publishing world.
4. Lack of Industry Experience
A legitimate literary agent should have a track record of working in the publishing industry. Be cautious of solo-agents who claim to be experts but have no verifiable experience or past successes. Research the agent's background, agency affiliations, and client history.
Of course, there are new agents who don't have a track record yet, but if they're with a reputable agency working with agents who do have a track record, they should be okay. Everyone has to start somewhere. What you need to avoid is the person who presents themself as a successful agent with no proof of that.
5. Pressure to Sign Quickly
Scammers often create a sense of urgency, pressuring authors to sign representation agreements quickly. They may claim that you'll lose the opportunity if you don't act immediately.
Reputable agents understand the importance of a well-informed decision. Most will end their phone or Zoom contact with you, asking when you might have a decision for them, anticipating that you'll need to think things through.
6. No Verifiable References
Legitimate literary agents can provide references from authors they've represented or publishers (note, they won't give out editor names) they've worked with. If an agent cannot or will not provide references, it's a cause for concern. Reach out to authors represented by the agent to inquire about their experiences.
7. Poor Communication
Effective communication is essential between authors and their agents. Scammers may be evasive, unresponsive, or inconsistent in their communication. Reputable agents maintain clear and open lines of communication with their clients. With that said, some agents are better than others in staying in touch with clients. Before you sign, find out how, when, and methods of communication the agent uses and how you can best get in touch when you have questions or concerns.
8. Inadequate or Unprofessional Websites
Examine the agent's website closely. Legitimate agents typically have professional websites with detailed information about their agency, client testimonials, submission guidelines, and contact information. Be cautious of websites with limited information.
9. Trust Your Instincts
Ultimately, trust your instincts. Like most things in life, if something feels off or too good to be true, it probably is. Seek advice from writing organizations, online communities, and trusted sources to verify an agent's legitimacy.
Finding a reputable literary agent can help you build your writing career, but you must also protect yourself from scams. By recognizing these warning signs and exercising due diligence, you can increase your chances of finding an agent who genuinely supports your literary ambitions. Remember, a legitimate literary agent is your advocate and partner on the journey to publication.